"Escape from Bigfoot Island"

Season 2, Episode 9

Information
Air Date

July 18, 2014

Writer(s)

Jim Armogida
Steve Armogida
Natalie Barbrie
Tim Brenner
Eric Friedman
David Kemker
Mike Larsen
Jon Ross

Director

Bruce Leddy

Episode Guide
Previous
Next
Escape from Bigfoot Island
 is the twelfth episode of Season 2 and the 36th episode of Crash and Bernstein.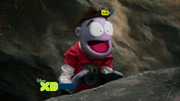 Wyatt, Crash, and Pesto go with Mr. Poulos on a fishing trip. After narrowly evading a lake shark, the group washes up on the mysterious Bigfoot Island, where they become stranded after Crash uses the wood from Mr. Poulos' boat to make a fire. Things spiral out of control when Crash ends up sighting what might be Bigfoot living on the island, and an eager Wyatt tries to capture a photo of the beast. The creature, however, later turns out to be a man named Jeff (Bill Fagerbakke) who also got stranded on the island.
This is the episode that was first aired on Disney XD Malaysia on May 30, 2014.
When Crash eats Pesto's peppers, fire is on his eyes and he shoots fire from his rear end.
When Crash thinks he found a Bigfoot, his eyes became smaller.[[Category:Vol. 3 Episodes
Bill Fagerbakke is from Spongebob Squarepants
Ad blocker interference detected!
Wikia is a free-to-use site that makes money from advertising. We have a modified experience for viewers using ad blockers

Wikia is not accessible if you've made further modifications. Remove the custom ad blocker rule(s) and the page will load as expected.