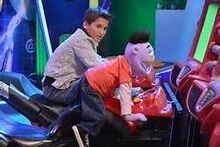 Iconic Arcade (often to as "The Arcade") is an arcade that appears in several episodes of Crash & Bernstein. It is owned by Samuel Pesto Banks' parents, and first appeared in the series premiere episode, Crash Lands. Crash and Wyatt Bernstein play games here with Pesto, who works behind the prize counter. It holds Wyatt and Pesto's favorite motorcycle simulation game, "Motorcycle Mayhem". The Arcade was also shown as the League of Annoyance Salon of Doom in the episode Comic Book Crash.
Ad blocker interference detected!
Wikia is a free-to-use site that makes money from advertising. We have a modified experience for viewers using ad blockers

Wikia is not accessible if you've made further modifications. Remove the custom ad blocker rule(s) and the page will load as expected.