Wyatt Bernstein

Information
Full Name
Wyatt Tyler Bernstein
Nickname(s)
Wy-Guy (by Mel Bernstein)

Bernstein

Gender
Male
Date of Birth
October 8, 2000 (age 13)
Eye Color
Blue
Hair Color
Brown
Network
Family
Mel Bernstein (mother)
Karl Bernstein (father)
Amanda Bernstein (sister)
Cleo Bernstein (sister)
Jasmine Bernstein (sister)
Crash (adopted brother/best friend)
Relationships
Pesto (best friend)
School(s)
Linus Pauling Middle School
Production
First Episode
Crash Lands
Portrayed By
Cole Jensen
Wyatt Tyler Bernstein is one of the two main characters on the show Crash & Bernstein.. Wyatt, always wanted a brother since he is the boy in his family and all he has is sisters, and he has been waiting 12 years for a brother, as he gets one by creating one and it's a puppet named Crash. Wyatt seems to be afraid of bugs such as scorpions and beetles. Wyatt has to share a room with Cleo.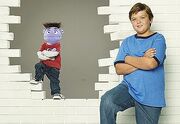 Personality:
Wyatt is a very out-going person. He can be a little grumpy sometimes but he can't hold a grudge. Since Wyatt is the only boy in the house, he felt left out, until his new adopted buddy/brother Crash came along. Every since Crash, came he didn't feel left out any more and now he feels normal. Wyatt always feels that he treats Crash more like a brother.
It is often shown that for unknown reasons, Wyatt often has it out for his sister, Amanda
Trivia